VISA
Types of Visa
Two types of visa will be issued as indicated below.
Note: Visa fees are non-refundable.
Diplomatic and Official Passports accompany by a Note Verbale are exempt from visa fees.
Pricing Under Construction
Categories of visas
Diplomatic

Official

Business

Visitor/Tourist

Others
Procedures for applying for a visa:
A valid passport with a minimum of 6 months validity;

A completed visa application form (For Diplomatic and Official Passport Holders, a Note Verbale should be attached.
One passport-size photograph

A letter of invitation, or proof of sponsorship, or a recent bank statement to show evidence of financial status;

An international certificate of Yellow Fever and other vaccinations is required;

A Medical Insurance coverage for the duration of stay in Liberia;

All applicants will be subject to an interview and may be required to appear in person. Only applicants residing outside of South Africa will be considered for telephone/video interview;

Applicants should ensure, that travel arrangements are made only after the visa has been granted. The Liberian Embassy declines all responsibility for losses incurred, should the visa be denied.

Processing of visa may take between 5-7 working days upon receipt of payment;
Express Visa processing takes 1-2 working days upon receipt of payment;
Return Visas by post:
All visa applications by post should include a self-addressed envelope for return postage. 
Applicants residing outside of South Africa should make arrangement with a mail courier service to pick up their passports upon completion. A communication from the applicant should be submitted to the Embassy with the details of the courier service.
Payment can be made at the Embassy through our POS machine or in the Embassy's account.
Banking Details:
Account Holder:      Embassy of the Republic of Liberia
Bank Name:             NEDBANK, Pretoria
Account Number:   1015513433
Branch Code:           15264500
Branch Name:          NREB Pretoria

PRESIDENT OF LIBERIA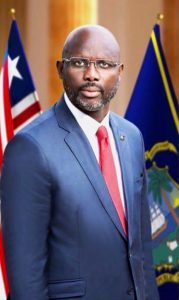 CONTACT INFORMATION:
Address:
Embassy of the Republic of Liberia
743 Park Street
Clydesdale, Arcadia, 0007
Pretoria
Tel: +27 (0)12 3422733/34
Fax: +27 (0)12 342 2737
Email: libempret@yahoo.com
Download the Visa Requirement Form Here